Walking, Drawing Making Memory
An exhibition' Walking Drawing Making Memory' accompanied the book launch of the same name at Ballynahinch Castle, Connemara, August 2009; Limerick City Gallery of Art, December 2009 and the Hugh Lane Gallery, Dublin, March 2010.
'A number of eminent, contemporary Irish artists, taking Ballynahinch Castle, Connemara, Co Galway in Ireland as their base, have been invited to explore the surrounding landscape and to bring back visual evidence of their encounters. The books in this series will be unique records of these individual expeditions, each one giving us a new insight into that inexhaustibly fascinating and wildly beautiful landscape.'
In Full Flight
'...there is the artist's book "Paradisi Portae Clausae Sunt", which contains a series of physically linked drypoint prints that open out, concertina-fashion, from between their hard covers to produce a final image 45cms x 600cms. Here it is spread- eagled the length of the gallery. Once again there is that that creative collision between map and diary, as the artist writes himself into the streets and landmarks and history of his own city, exploring the complex interactions between identity and place.'
Jim Savage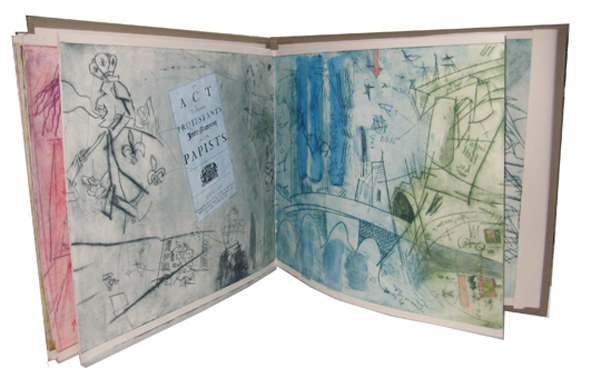 The Usurpers Habit
'The inspiration for David Lilburn's exhibition of drypoint etchings, The Usurper's Habit, came from a historical map/sketch of Limerick representing the first siege of the city by Williamite forces in 1690. Lilbum, himself Limerick-born, uses this as a model to explore the persistence of history.'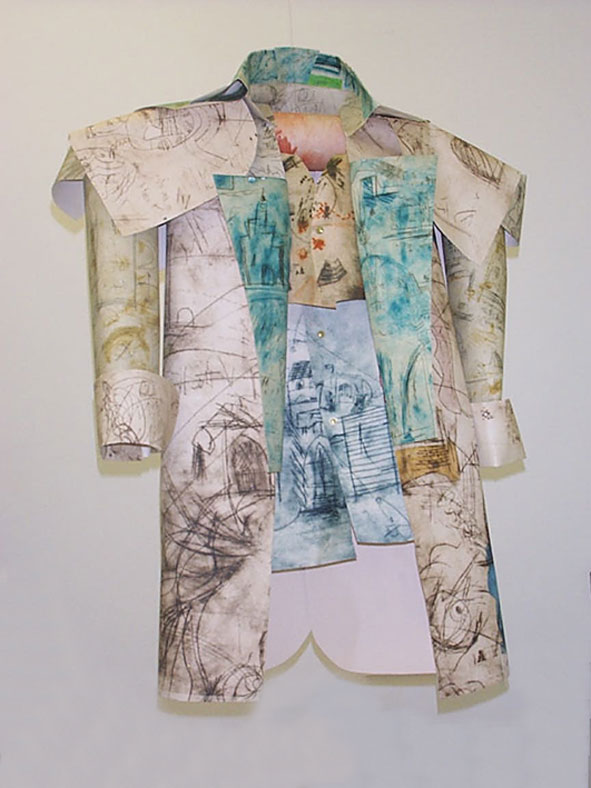 Andiamo a Passeggiare &
Lets Take a Walk
An exhibition of prints by David Lilburn, October 1994
The exhibition, held in the Palazzo della Penna, Peruggia, was part of the festival 'Immagini d'Irlanda in Umbria / 'Images of Ireland in Umbria' organised by an organisation of the same name directed by Paul Cahill.
It was an expanded version of an exhibition shown earlier in that year - 'Let's take a walk and other prints', an exhibition by David Lilburn at the Chris Doswell Gallery, Mallow Street, Limerick.