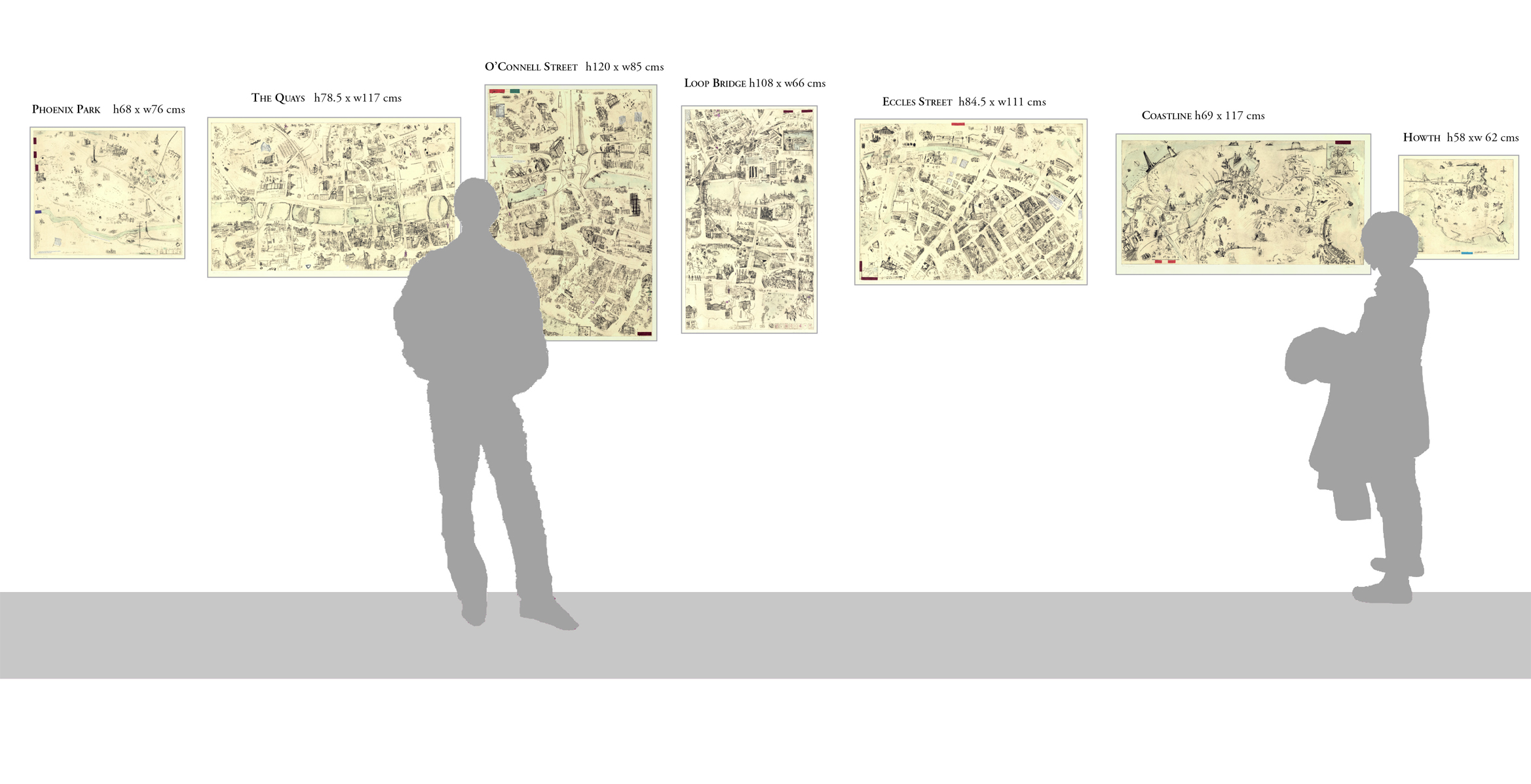 In Medias Res
A suite of seven intaglio dry point prints
2004
Client: Office of Public Works, commissioned for 'James Joyce and ULYSSES at the National Library of Ireland, Dublin
Architect: Orna Hanley
'In medias Res' is comprised of seven drypoint prints which together form a map of a large part of Dublin and its environs which include the areas of the city that feature prominently in Ulysses. Constructed from a multiplicity of drawn marks and viewpoints, packed with references to the topography of Dublin and to plot fragments, characters, anecdotes, conversations, historical events and classical allusions all mentioned or implicit in the text. The work enables the viewer to orientate himself or herself within Dublin as it appears in Ulysses and as it is today and to follow the routes taken by various characters in Ulysses as they crisscross the city throughout 16th June 1904.
Tabula Press, publisher of 'In Medias Res', www.tabulapress.ie
Reviews
"Lilburn's prints are a springboard for the literary imagination - the visual representations parallel the epic work's intellectual allure, and potential for immersion. This conceptual, creative, and truly original work is successful because its maker is both a Joyce enthusiast and a skilled artist and combines an effective knowledge of drawing, printmaking, Irish history, architecture, modernity, and Joyce to enable the audience to become visually orientated in Bloom and Stephen's Dublin. In Medias Res is a valuable visual supplement to any serious Joyce collection."
Steph Hurst, James Joyce Literary Supplement University of Miami Miami, Florida, USA
"magnificent artwork by David Lilburn"
Fritz Senn, Zurich James Joyce Foundation Zurich, Switzerland
"David Lilburn's Bloomsday prints are among the best visual representations of Joyce's work that I have seen - and there are many."
William S. Brockman, Collection Development Coordinator for University Park Paterno Family Librarian for Literature Pennsylvania State University, USA
"In Medias Res is nothing less than the heroic attempt to make a drawing of an entire book..."
Jim Savage, Artist and Curator Aghabullogue, Co. Cork, Ireland
"The drypoints, even in reproduction, capture the spontaneity, immediacy and freshness of the artist's response to tracing Bloom's travels around the city. His "system" of scratches and dots and multiple perspectives convey the excitement and pleasure of discovery, while they record the topography of Dublin and places and events associated with the text. Stoney Road Press should be congratulated as well for the beautiful printing of the delicate drypoint burr and the expressive marks and "accidents" that evoke the artist's hand and the urgency of his mapmaking.
It was a great pleaure to get acquainted with this memorable work."
Roberta Waddell, Curator of Prints The New York Public Library, USA