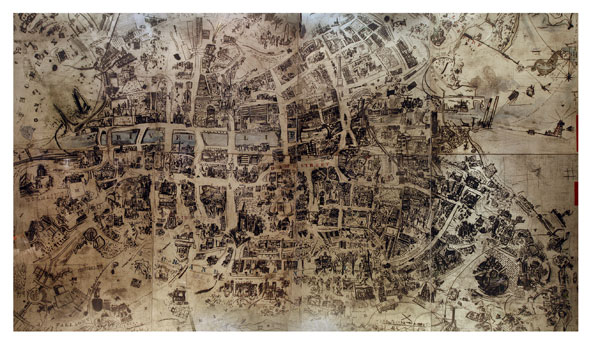 Map for City Hall
2000
An 'artist's map' of Dublin incorporating personal, public, artistic, social, historical and topographical references.
Commissioned as part of the major restoration of City Hall – A Millenium Project undertaken by the City of Dublin for a permanent exhibition – 'The Story of the Capital', designed by Orna Hanley Architects.
Client: Dublin Corporation
How do you begin to draw a map of the city?
Set out on a journey towards the strange foreign sources of the city,
of drawing, of maps…
visit in turn the landmarks ... cover the urban terrain on foot, or by recall, or through the eyes of fictional characters ... assemble and plot fragments of remembered, or partially remembered, pictures, stories, anecdotes, maps, quotes, conversations … describe the linear trace of past journeys … re-present it.
If there is a manner of looking comparable to the act of drawing, then the viewer too can travel along the routes drawn here and find new ways to construct their Dublin.