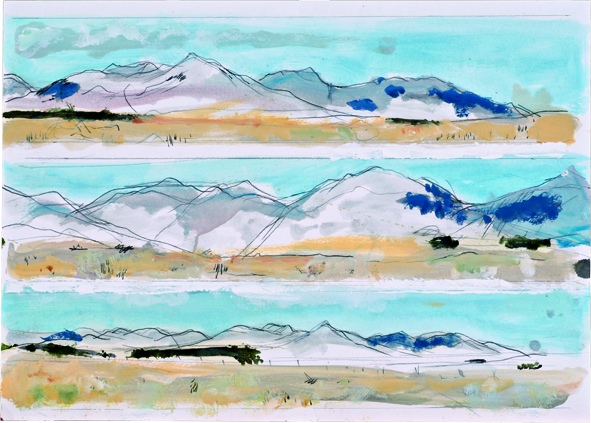 'Mountain Panorama'
, pencil and oil on paper, 34 x 50 cms, 2009
Walking Drawing Making Memory
An exhibition' Walking Drawing Making Memory' accompanied the book launch of the same name at Ballynahinch Castle, Connemara, August 2009; Limerick City Gallery of Art, December 2009 and the Hugh Lane Gallery, Dublin, March 2010.
'A number of eminent, contemporary Irish artists, taking Ballynahinch Castle, Connemara, Co Galway in Ireland as their base, have been invited to explore the surrounding landscape and to bring back visual evidence of their encounters. The books in this series will be unique records of these individual expeditions, each one giving us a new insight into that inexhaustibly fascinating and wildly beautiful landscape.'
'Walking Drawing Making Memory: A Ballynahinch Sketchbook' by David Lilburn, was the first book in the series, published in 2009
It is published in a limited, numbered edition of 300, 68pp, hardback books by Ballynahinch Castle and Occasional Press. Numbers 1 - 150 include a frontispiece of an original intaglio print and are signed and numbered by the artist.
Further information :
www.occasionalpress.net/walkdraw/publicationswdmm.htm
Links to Walking Drawing Making Memory texts
Walking drawing Making Memory.docx