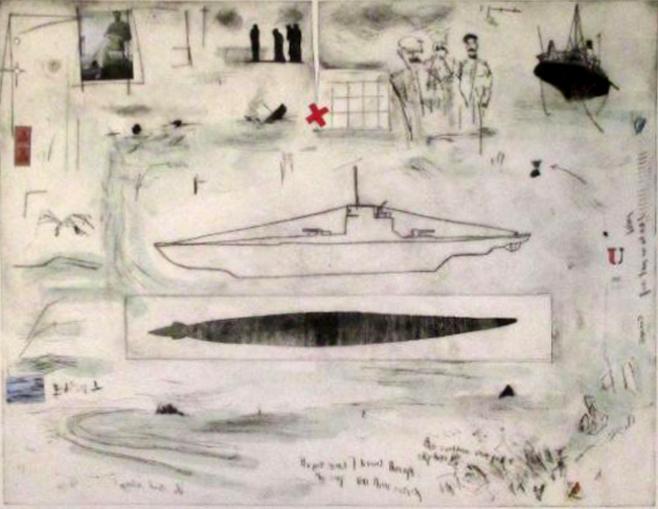 'Banna Strand', watercolour, Chine collé, , 70 x 100 cms, 2016
My involvement with printmaking started forty years ago with a summer course in lithography in Urbino and has over the years deepened and broadened to the extent that it is now probably true to say that my involvement with printmaking is essential in defining not only what I hope to achieve as an artist but how I define myself as a person.
My work often engages with the intaglio technique of drypoint or monoprinting. Both these techniques contain the 'remove' and 'process' which form an essential ingredient of printmaking while offering huge scope for graphic or painterly means of expression.

David Lilburn' by Judith Hill , Irish Arts Review, Autumn 2011
Extract from 'The material consequences', EV+A' by Aidann Dunne, The Irish Times, Tuesday, April 6, 2010
EV+A IS IRELAND'S foremost annual international exhibition of contemporary art. It is selected from open submission and, every other year, the guest curator is also asked to invite artists to participate. This is one of those years, and the curator is Elizabeth Hatz. ..One of the first things she came across when she started looking at the work were David Lilburn's two large-scale, panoramic prints. "I was delighted, they were exactly what I was looking for," she says.
Lilburn, who is based in Limerick, makes map-like drawings and prints that detail personal experience of the landscape, in this case the urban landscape of boom and bust in Ireland. Just as Dublin has the shell of Anglo-Irish headquarters in Docklands as a spectral monument to the Celtic Tiger, Limerick has its own stalled Ozymandian development, the Parkway Retail Park, on the outskirts of town, a vast fortress of raw concrete with a scaffolding of cranes looming overhead. That startling landscape is Lilburn's subject.